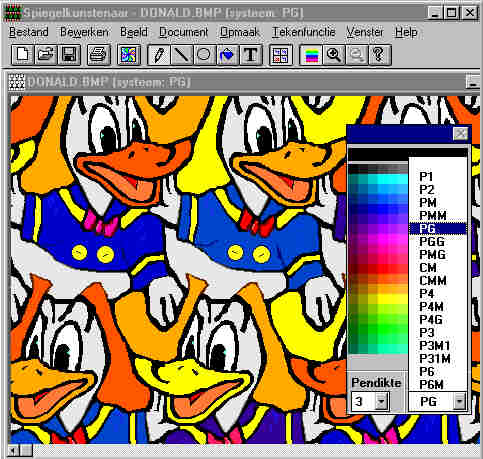 MIRROR ARTIST was a Windows Program on CD-ROM. It is from 1995. Now it is obsolete
MIRROR ARTIST is an unique Paint Program to design Escher like drawings, like the Donald Duck drawing left
All 17 different Symmetry Systems available (P1 to P6M)
Pictures saved as BMP files
Choose your pencil width and your color
Very suitable for children, they are very enthousiastic!
Original gift, to an original person, from an original person
Windows program in Dutch language, with self explainary buttons (e.i. pencil, staight line, circle, Text etc.)


John A.L. Osborn, Editor of THE AMPHOGRAPHER, wrote in his Magazine about MIRROR ARTIST:
Though I have never personally attempted to use a computer in creating figurative tilings, a couple of people (non-artists) have extolled to me the ease with which this or that program can facilitate creation of figurative tilings.
But until now, with Mr. Kuiper's work, I have not seen work from these people which evidences a quality, ingenuity or talent beyond the level to be found in the 'rorschached' tilings of faces, etc. which are routinely produced by grade-schoolers doing math teaching exercises in tiling.
Program or pencil, Kuiper's work is impresive, and I wish him the best, whatever he chooses to do with his tiling program.